A legal business should use digital marketing to differentiate itself from the competitors, and lawyer SEO is crucial. Today's lawyers are always competing against one another. Every year, a continuous stream of new attorneys arrives from all around the world.
As a result, today's attorneys must concentrate on honing their technical abilities and expertise and promoting their services. According to research, law firms using digital marketing strategies are more likely to convert clients.
SEO is essential for law firms to develop organically and reach more customers online. Law firm SEO isn't just about getting more traffic and prospects. Let's talk about what is SEO and how does it work?
A sort of digital marketing known as Search Engine Optimization (SEO) is all about attracting traffic to your website and social media accounts from search engines like Google.
Using search engine optimization (SEO), a legal firm may deliver targeted traffic to their website, directory listings, or blogs over the long term. Below are some of the benefits that legal firms may get when using search engine optimization to market themselves.
Increased Return on Investment
Law firms can acquire highly focused traffic using search engine optimization techniques. In other words, their marketing money will be put to good use by bringing in new customers who are actively seeking the services provided by the company.
Compared to typical marketing methods such as print advertisements or television advertising, this is a radical departure. This is because the legal company does not know how many individuals viewed it or if they need their services in these situations.
According to lifehack.org, if you use search engine optimization, you may target certain keywords connected to your company so that you know precisely which website visitors would be interested in your legal practice.
ROI is incredibly significant for legal firms since it indicates how successful the company is. The marketing budgets of many legal firms are quite limited, and they must get as many customers as possible for their investment of time and resources.
Inbound Marketing by the Help of Lawyer SEO
SEO, like any other marketing instrument, seems to be the most effective, and it is considered a sort of inbound marketing as well. Inbound marketing is a method of attracting customers without advertising to them directly via various channels. When someone searches for a lawyer, they will see your website listed at the top of the results, and the majority of customers or clients will click on the first link, resulting in your law firm gaining a new client at the time of the search. SEO is beneficial in attracting clients in a variety of ways.
Advertising Made Simpler
When legal firms begin to experience an increase in traffic, they will more easily contact their target audience. This is because lawyer SEO assists law companies in getting in front of the appropriate individuals at the appropriate time.
This advantage is especially beneficial for legal firms that are just getting started and don't have a lot of money to spend on advertising campaigns and established companies that want to get more bang for their buck. It helps them to save money.
A search engine marketing (SEM) campaign is one of the most successful methods for law firms to create high-quality leads by targeting specific keywords relevant to their company.
Consequently, you will be able to target certain demographics within your sector, resulting in higher conversion rates and less money spent. Using SEO, legal firms may create leads and grow their company organically without seeming to be promoting themselves or paying for advertising.
Better Placement in the Search Results
By using search engine optimization (SEO), law firms can increase their presence on search engines such as Google and Yahoo. Thus, when individuals do searches relevant to legal practice, the law firm's website is likely to appear higher on the results page.
This is advantageous since it allows law firms to rank for highly competitive keywords and displace their rivals. As a result, prospective customers will know who to turn to first since they have established themselves as experts in their field.
Optimizing your law firm website with selected keywords directly linked to your company will help you increase your search engine rankings. Consequently, you will see a rise in traffic, which will aid in the improvement of conversion rates.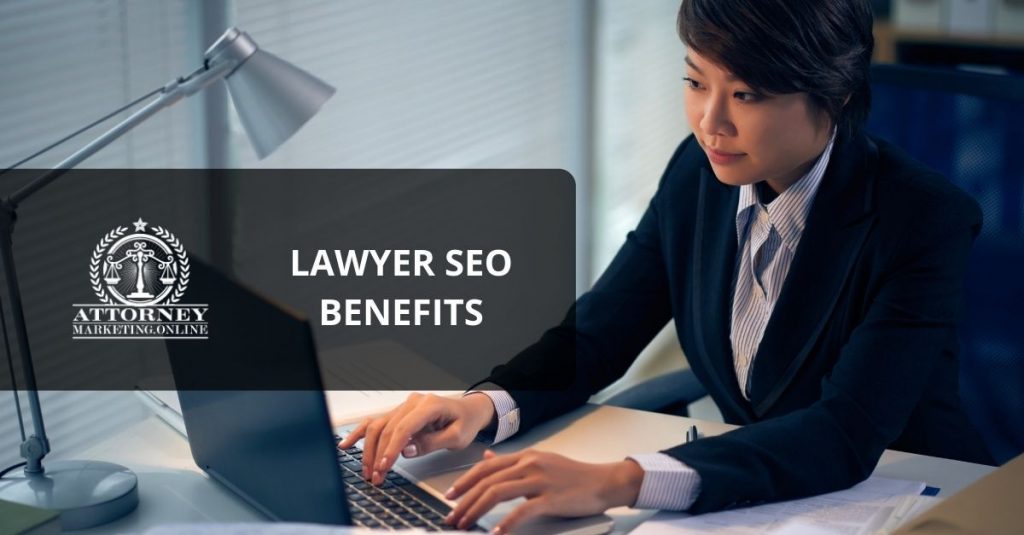 Increased Reputation and Online Reputation
Increased search engine rankings for legal firms may help them establish a more positive reputation in the community. This is because the legal firm will now be regarded as an expert within its field.
This may assist law businesses in attracting more customers who have the same view as they do, and some of these clients may even come from visits to rivals' websites seeking a respected legal company. Their web presence enables individuals to learn more about the firm's qualifications, which helps prospective customers feel more confident in their decision to hire them.
A better image for themselves in their sector may be achieved by incorporating search engine optimization (SEO) methods into their digital marketing strategy. This fosters trust between present and prospective customers and between employees.