TikTok is blowing up in popularity in the last year. It has 800 million active users. And it shows no sign of stopping. Even though most users here are teenagers and young adults, business owners and lawyers are using it to fit into their digital marketing strategy. So, yes, you can use TikTok as part of your attorney social media marketing strategy. 
But the big question is, how can use it? 
TikTok
Attorney Social Media Marketing 
Many young lawyers have tapped into this market to educate people through entertainment. The goal of TikTok marketing is brand awareness. If people in your area are aware of what your legal services are, they may consider you as their lawyer should they need one. 
Does the Following Count Translate to Clients? 
Of course, the number of your followers on TikTok doesn't translate to the number of clients who consult with you. But that's not the goal here. Instead, your goal is to make yourself visible to more eyes who are looking for your services. The good thing about TikTok is that you can place a link back to your website through your profile description.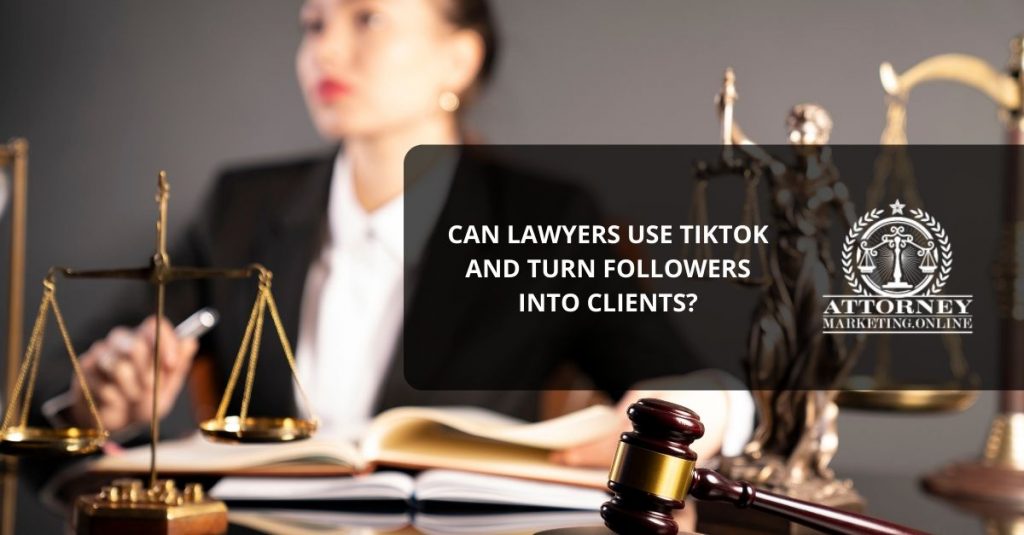 Unfortunately, TikTok's marketing can be different from Instagram or Twitter. The reason for this is that Tiktok's language is natural. Thus, you can't tell your viewers to contact you to learn more about your services. Rather, you can say, "reach out to me if you have further questions." Unsolicited marketing isn't a good idea on this platform. 
Here are other tips to start marketing your law firm on TikTok: 
Upload Content Regularly 
Some lawyers on TikTok with huge following post content every day. If you can do that, then make sure that you upload content regularly. Say, every Monday or Sunday. And each time you publish content, it has to be unique. Although your law firm isn't unique, your personality is. Use this platform to show off your expertise and your passions. 
Use Hashtags 
Preferably, you need the trending hashtags that relate to your business. The heart of TikTok's community is the challenge. TikTok users find it exciting to take new challenges every day. They consider challenges as a new opportunity for them to interact with their users. And one way to find challenges is to use trending hashtags. You don't have to do all the challenges available. You can take one or two. The goal is to get traction and momentum. 
Interact with Your Followers 
The focal point of this platform is interaction. To ensure that your brand will be visible, you need to update regularly and interact with your followers and other accounts consistently. When users leave a comment on your post, interact with them. Leave comments on other users' videos, too.  On the other hand, if you have used TikTok marketing before for your law firm but you didn't reap any rewards, your strategy might not be that convincing. Try our attorney social media marketing services and we can help you market your brand on this growing social media platform. Call us here at (888) 477-9540.